Promoting healthy aging across Southeast Texas
Southeast Texas Geriatrics Workforce Enhancement Program provides valuable resources for older adults, caregivers, and healthcare professionals serving older adults.
The vision of the Southeast Texas Geriatrics Workforce Enhancement Program (SETxGWEP) is of a diverse community of collaborative professionals who promote healthy aging and equitable interprofessional geriatrics care for all of us.
SETxGWEP strives to promote, disseminate, and implement the key principles of Age Friendly Healthcare for health systems and community partners.
SETxGWEP was founded in 2019 to integrate training on geriatric competencies into the healthcare, training, and workforce that cares for older adults.
Collaborating to address gaps in older adult healthcare
Health outcomes of older adults can be improved by a collaborative healthcare network and workforce. 
SETxGWEP is proud to partner with a large network of community-based organizations, academic institutions, and primary care health systems.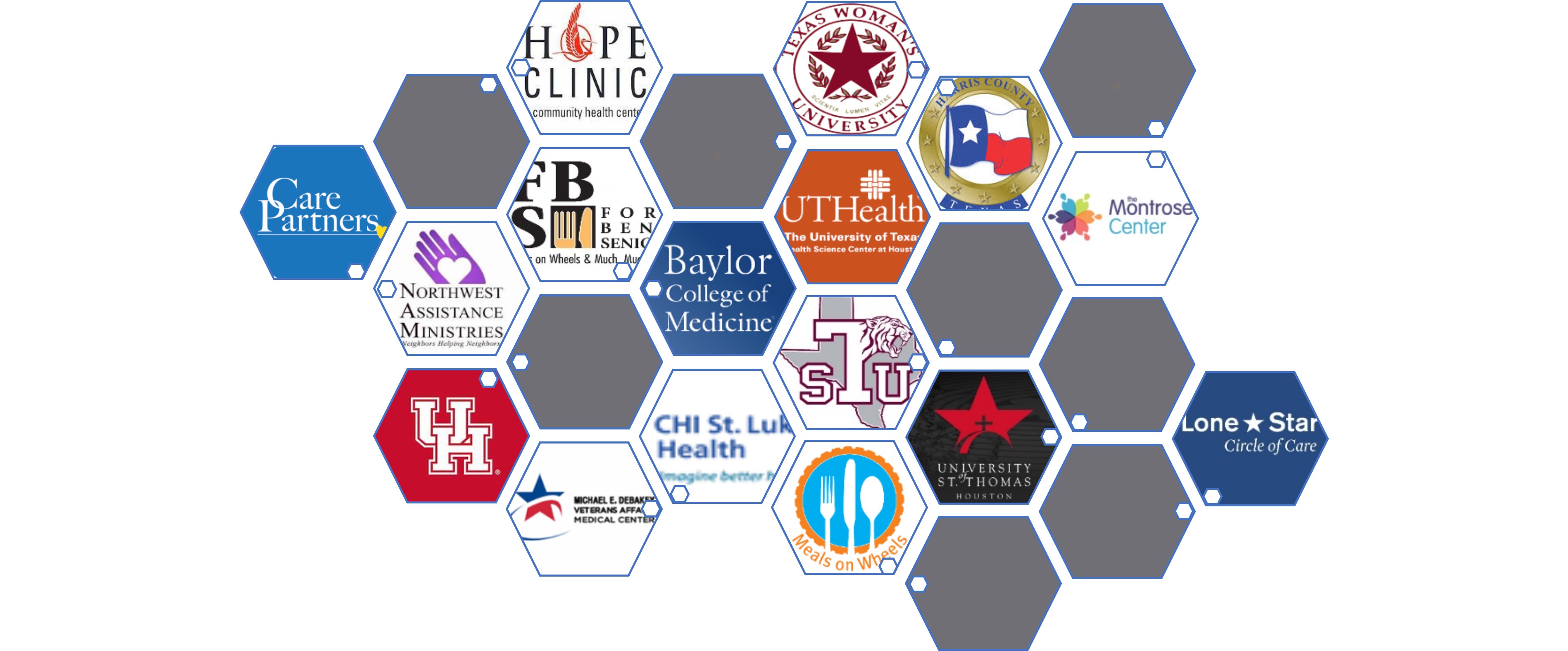 SETxGWEP has been on the forefront of the COVID-19 situation and has provided our community with timely and invaluable information. This responsive approach to designing education programs and resources for older adults and their families has laid a ground work for improving Houston's aging services network.
SETxGWEP has helped us to provide better care to our patients at the Lone Star Circle of Care-UH clinic and better prepare our next generation of healthcare professionals.
We are using content from the SETxGWEP in our curricula within the College of Pharmacy, Graduate College of Social Work, and College of Medicine.
University of Houston - College of Medicine
As a geriatric dentist and geriatric oral health educator, it has been a tremendous experience for me to actively collaborate with SETxGWEP. The GWEP team has initiated an innovative oral health education for future health providers. For the first time, physicians, nurses, physician assistants, and other healthcare disciplines will be able to recognize abnormalities in the mouth and make proper referrals. SETxGWEP has taken the necessary steps to close the gap between oral health and overall health among geriatrics.
The University of Texas Health Science Center at Houston – School of Dentistry
Age-Friendly Health Systems
Age-Friendly Health Systems is a social movement dedicated to ensuring age-friendly care for all complex older adults in a health system. Developed in 2017 by the John A. Hartford Foundation (JAHF) and the Institute for Healthcare Improvement (IHI) in partnership with the American Hospital Association (AHA) and the Catholic Health Association of the United States (CHA), age-friendly care:
Follows an essential set of evidence-based practices
Causes no harm
Aligns with What Matters to the older adults and their family and other caregivers
Age-friendly care is high-quality care for aging adults organized through a set of four essential evidence-based elements known as the "4Ms." The 4Ms enable healthcare teams to simplify the medical complexity of aging and provide a more individualized approach to care focused on delivering the health outcomes that matter most. When implemented together, they are expected to result in significant improvement in the care of these individuals. 
To become an Age-Friendly Health System, the 4Ms must be reliably provided to all older adults. The 4Ms include the following:
What Matters: Know and align care with specific outcome goals and care preferences rooted in what matters. Patient Priorities Care offers training and support on how to do this.
Medication: Use Age-Friendly medication that doesn't interfere with What Matters to the patient, Mobility, or Mentation across settings of care
Mentation: Prevent, identify, treat, and manage dementia, depression, and delirium across settings of care
Mobility: Ensure older adults move safely every day in order to maintain function and do What Matters
Dementia-Friendly Communities
A dementia-friendly community is a village, town, city or county that is informed, safe and respectful of individuals with the disease, their families and caregivers and provides supportive options that foster quality of life.
DFC residents recognize that people living with dementia are more than their diagnoses; that dementia can affect thinking, behavior, emotions and physical ability; and that everyone plays a role in supporting the independence, value and inclusion of people living with dementia.
Opportunities to engage and connect with others dedicated to improving care for aging adults
Geriatrics Interprofessional Trainee Chapter
SETxGWEP is proud to sponsor the American Geriatrics Society (AGS) Interprofessional Trainee Chapter in Houston, TX.
Meeting quarterly, this organization brings together interprofessional trainees from all levels who share an interest in the care of aging adults. Members work with mentors on aging related academic projects, including journal club discussions, case presentations and didactics. Leadership opportunities exist in a national professional society.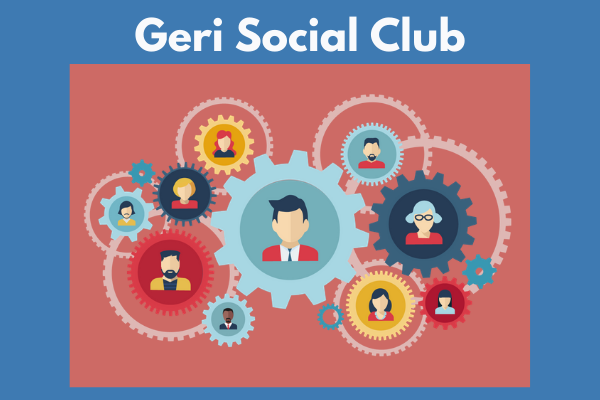 Geri Social Club for Healthcare Professionals
The Geri Social Club fosters community and education among the wider eldercare workforce. The club meets quarterly for socialization and professional development. All healthcare professionals are welcome; no formal association with the SETxGWEP is required.
The focus of sessions alternates between discussion of sentinel aging journal articles and broader discussions of aging in our society.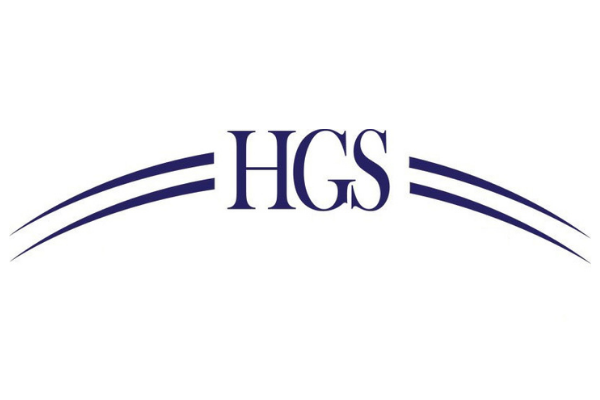 Houston Gerontological Society
The Houston Gerontological Society has served Houston's professional community since 1986. It is dedicated to strengthening and enhancing current and future services for older adults and their families.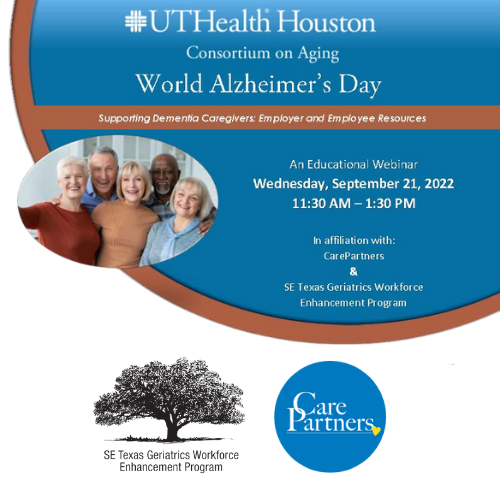 Join us for the 2022 World Alzheimer's Day "Supporting Dementia Caregivers: Employer and Employee Resources" …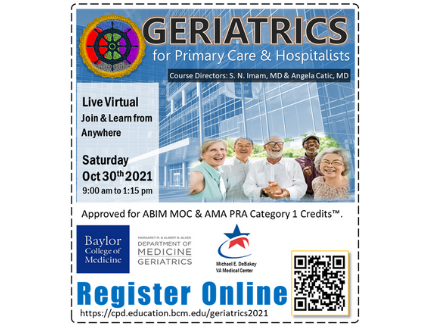 Don't Miss Out! Sign Up Today!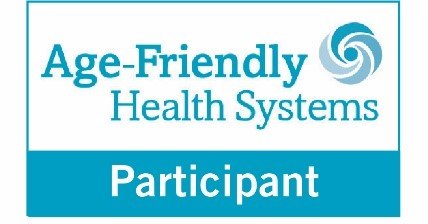 The Michael E. DeBakey VA Medical Center's Home Based Primary Care Clinic achieved Level 1 …